Regular price
€29,90
Sale price
€29,90
Unit price
per
Sale
Sold out
In stock
Mix & Match: 4 items for only €97
Free delivery

100% Natural geothermal silica

No additives
Description

GeoSilica is sourced from geothermal water deep within Iceland's volcanic earth, using no artificial chemicals. REPAIR combines silica and manganese in pure Icelandic water for joints and bones and fortifies their strength.* Manganese contributes to the normal function of connective tissue.* 

Contains silica and manganese
Supports healthy joints
Strengthens your bones

*The Food and Drug Administration has not evaluated these statements. This product is not intended to diagnose, treat, cure, or prevent any disease.
Mix & Match

Mix and match any item and combine them.
4 Items for only €97, discount automatically in cart. No code needed!
View full details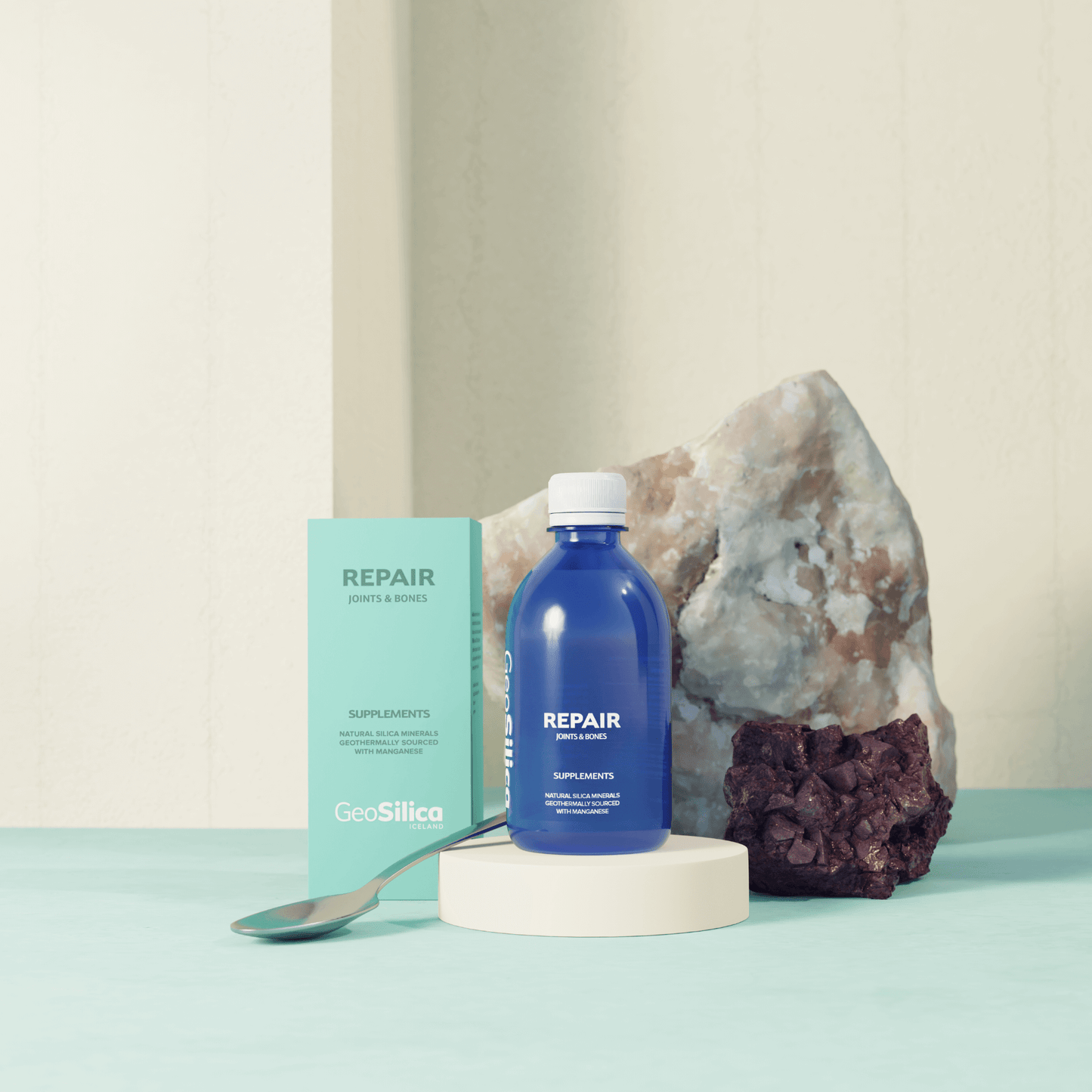 Ef að ég sleppi inntöku af GeoSilica þá versnar mér mjög fljótt
Ég er með gigt og er misjöfn eftir árstíma. Ef að ég sleppi inntöku af GeoSilica þá versnar mér mjög fljótt og það tekur lengri tíma að ná verkjunum niður. Ég er því farin að muna eftir inntöku daglega
Er bara hoppandi kát og bíð spennt eftir því að labba næsta golfhring :D
Ég er búin að vera með stoðkerfisvanda í mörg ár en eftir að hafa notað REPAIR í aðeins eina viku eru verkir og stirðleiki sem að ég hef verið að kljást við mjög lengi horfnir! Algörlega magnað. Ég hef verið með varanleg slit í hné lengi en nú get ég labbað stigana heima hjá mér án vandkvæða, er ekki að drepast í iljum og ökklum þegar ég fer fram úr á morgnana og svo mætti lengi telja
Hjálpar mér með verkina er með slitgigt og vefjagigt
Hjálpar mér með verkina er með slitgigt og vefjagigt
REPAIR - Supplement for Joints & Bones
REPAIR - Fæðubótaefni fyrir liði og bein